Testing and Exam preparation
Assessment and Certification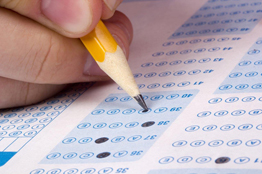 ILE International is a test center that holds test sessions and/or offers preparation modules for TCF, TOEIC and LINGUASKILL.
These examination sessions can take place either at our own center, according to a pre-established schedule, or else at another location, such as a college or the office of a corporate client.
We can also arrange for tests to be held at our offices for those who have special requirements.
Language assessment tools serve as a benchmark to identify a person's level of proficiency in a language, their ability to handle specific communication tasks either at work or at school, as well as to define a time span to achieve foreign language communicative competence during a training process.
ILE International can offer three main tools:
Test de Connaissance du Français

Tool developed in France by the National Ministry of Education
CIEP (Centre International d'Études Pédagogiques) used to evaluate a person's knowledge of the French language. This exam is required by universities and Departments of Immigration in France and the Canadian province of Quebec.

Test of English for International Communication

Tool recognized internationally to assess a person's comprehension level of the English language in a work-related setting. This test is produced by ETS.

Business Language Testing Service

Multilingual tool in German, Spanish, English and French to measure the comprehensive communication skills of an individual in a business related environment. This test is produced by the University of Cambridge.

All participants receive a test report with their score and the companies they work for are given a group report listing all the candidates that sat the test.