TOEIC Listening & Reading
Assessment and Certification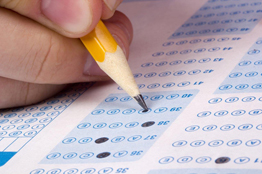 TOEIC
The TOEIC Listening & Reading has a paper format with 200 questions divided into listening exercises (100 questions to be solved in 45 minutes) and language structure exercises and reading passages (100 questions to be solved in 75 minutes). The question format of the exam is multiple choice.

Content description:
Method: group sessions
Benefits

An excelent benchmark of an individual's English proficiency level to include in resumés.

For companies, an excellent tool to be used for recruitment and selection of personnel, and as a tool of measure of progress in language training.

For Higher Education Institutions, as a tool to determine progress in English language training programs.